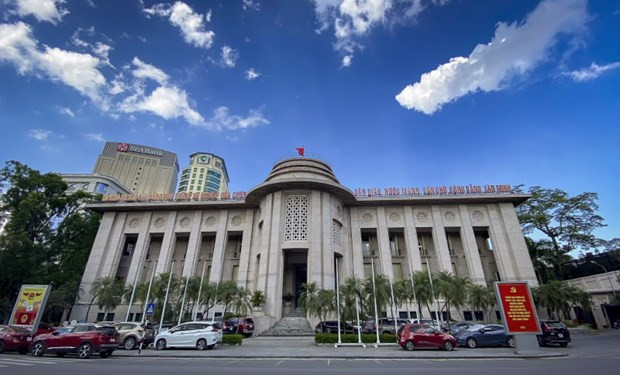 State Bank of Vietnam (Photo: VNA)
Governor of the State Bank of Vietnam Nguyen Thi Hong has issued decisions on revising up several interest rates by 1%, starting from September 23.
Under the Decision No. 1606/QĐ-NHNN dated September 22, the refinancing interest rate will be set at 5% per year, rediscount at 3.5%, and overnight inter-banking lending rate at 6%.
Under another decision, the interest rate for non-term and one-month deposits in Vietnamse dong is capped at 0.5% annually while that for 1-6 month deposits is 5%.
Deposits of 1-6 months at people's credit funds and micro-finance organisations will enjoy an annual interest rate of 5.5%.
Vinfast, Ahamove launch delivery service using e-bike
Electric vehicle (EV) maker VinFast and Ahamove Instant Services JSC have jointly launched AhaFast, the first electric bike-based delivery service in Vietnam.
Under the newly-signed deal, VinFast will provide electric motorcycles for Ahamove to deploy its delivery service based on the technology platform – AhaFast.
Ahamove's goal is to put 10,000 e-bikes into operation by 2025, gradually replacing gasoline-powered ones that do not meet quality standards and are causing environmental pollution.
In the first phase, the service will be available in Da Nang with 100 vehicles, then expanded to other major cities such as Hanoi, Ho Chi Minh City, Hai Phong, and Nha Trang.
The deployment of technology-based freight services using electric motorbikes is hoped to help promote the green revolution towards the national climate change goal from now to 2050.
PM chairs forum on digital transformation role in collective economy, cooperatives
Prime Minister Pham Minh Chinh on September 23 chaired a forum on collective economy and cooperatives, which focuses on the role of digital transformation in the development of the sector.
The leader underlined the significance of digital transformation as a compulsory task in the national development.
Meanwhile, the collective economy is an obvious trend during international economic integration, which is suitable to the socialist-oriented economy, he said.
Resolution No.20-NQ/TW released at the fifth session of the 13th Party Central Committee clarified that the collective economy is an important economic sector that needs to be reinforced and developed and, together with the State-owned sector, to become a firm foundation for the national economy, he noted.
The Government leader said that over the years, the collective economic sector has seen strong growth in all aspects, including scale, structure, connectivity, and efficiency.
However, it has yet to meet all development targets and requirements, he said, pointing out various difficulties facing it, including poor capacity and efficiency and the loose organisation structure, and modest human resources quality. One of the reasons behind the problems is the slow digital transformation without specific strategy and actions.
Therefore, the collective economy and cooperatives should actively change their production and business methods, while speeding up digital transformation to adapt to the new development situation, he stressed.
The Government leader underlined that the forum aims to evaluate the achievements in digital transformation at the national level and in the field of collective economy and cooperatives in particular, while pointing out shortcomings, difficulties, challenges and current problems in the work, thus seeking suitable solutions and promoting digital transformation in the future, motivating the fast and sustainable growth of the sector.
New regulations enhance transparency in private placement of bonds
     
The new decree on offering and trading private placement bonds helps standardise and improve bond issuance conditions, supervision of capital use purposes and information transparency, said analysts.
The Government on September 16 issued Decree 65/2022/ND-CP which amends and supplements a number of articles of Decree 153/2020/ND-CP dated December 31, 2020 on offering and trading private placement bonds in the domestic market and offering corporate bonds to the international market.
The new decree seeks to strengthen issuers' responsibilities and obligations in using bond proceeds for the intended purposes.
Analysts from Mirae Asset Securities Vietnam Joint Stock Company, Nguyen Nam Son and Nguyen Duong Cong Nguyen, said that the corporate bond market will see many fluctuations in the short term, related to the review of the compliance level of bond issuance.
The development potential of this market remained very large. If compared with countries in the region, the ratio of corporate bonds to GDP of Viet Nam is currently at a low level of 15 per cent, while that of Thailand is about 97 per cent or Malaysia with 58 per cent.
The issuance of this new decree shows the determination of the management agency to stabilise the corporate bond market, which has faced many risks and shortcomings, leading to cases of violations in recent years, they said.
The new decree adds provisions on ensuring publicity and sets standards and strengthens sanctions enforcement measures and removes unreasonable constraints on the corporate bond market, according to Vu Tien Loc, president of the Vietnam International Arbitration Centre and member of the Economic Committee of the National Assembly.
According to the Viet Nam Bond Market Association (VBMA), in the first eight months of 2022, there were 344 private placements of bonds worth about VND211.3 trillion, accounting for 96 per cent of the total issuance value. The value of bond private placement decreased by about 40 per cent compared to the same period last year.
Baby products showcased at Hanoi international exhibition
The fair features a total of 80 booths from more than 50 businesses representing the Republic of Korea, Australia, Italy, China, and New Zealand, among others.
Many famous brands are being showcased at the function, including Merucon, Aquamilk, Yodee, Aladin Vina, Kutieskin, Uala Rogo, Dalgomi, CVI Pharma, and Green Finger.
The event's organisers are also hosting a playing zone and photobook corner for children and families to enjoy a fun time together.
Most notably, during the prime time between 6 p.m. and 8 p.m., several businesses will launch a 70% discount programme on baby, kids, and educational products.
HCM City to host International Food Industry Exhibition in October
The Ho Chi Minh City International Food Industry Exhibition 2022 (HCMC FOODEX 2022) will run from October 19-20 at the Saigon Exhibition and Convention Centre (SECC), heard a press conference held in HCM City on September 22.
Organised by the Investment &Trade Promotion Centre of Ho Chi Minh City (ITPC) and the Food and Foodstuff Association of Ho Chi Minh City (FFA) , the event will attract the participation of more than 300 domestic and overseas businesses.
At the event, businesses will display and introduce a variety of food products in raw and semi-processed forms as well as those that are processed; beverage products and machinery and equipment for production, packaging and preservation.
A series of seminars and business-matching events will be held within the framework of the exhibition to provide the latest information on consumption trends as well as orientations of potential export markets.
One highlight of the event is the promotion of Vietnamese and international cuisine with the participation of famous artisans and domestic and foreign culinary experts.
Seminars kick-start Vietnam Artificial Intelligence Day 2022
A series of seminars kick-started the 2022 Vietnam Artificial Intelligence Day (AI4VN) in Hanoi on September 22.
The seminars discussed AI solutions in finance-banking, training and connecting AI human resources, and automation in production.
As heard at these events, the Accenture's latest report showed that more than 60% of companies operating in the financial – banking sector are testing AI.
Pham Quang Vinh from Viettel Cyberspace Centre said in the next three years, the accumulation of AI database will bring great value, contributing to solving many problems.
Pham Hien, a researcher from the Commonwealth Scientific and Industrial Research Organisation (CSIRO)'s Data61, introduced a project on the AI market in Vietnam, which is built exclusively for the formation and strengthening of the AI ecosystem in the nation.
Do Manh Cuong, Deputy General Secretary of the Vietnam Automation Association, said automation is divided into seven levels, with most businesses in Vietnam now at the level 3-4-5 or partial automation.
In the digital era, the traditional business model will be eliminated and replaced by a digital transformation model of corporate governance, he added.
Vietnam, India boost cooperation in trade, investment
A Vietnam-India business matching event was held in Hanoi on September 22, on the occasion of the Vietnam visit by 42 enterprises of the India-Vietnam Chamber of Commerce and Industry (IVCCI).
Speaking at the event, Vice President of the Vietnam Chamber of Commerce and Industry (VCCI) Nguyen Quang Vinh appreciated the working visit of the Indian business delegation, which took place just ahead of the 50th anniversary celebration of the establishment of diplomatic relations between the two countries later this year.
For Vietnam, India has always been a strategic partner in trade and has a lot of potential for cooperation; in which mechanics and engineering for production are an important part of bilateral trade.
IVCCI President Ajoykant Ruia said that with a stable economic and political environment, a young, abundant and highly skilled workforce, Vietnam is currently a safe and reliable destination.
Indian investors are really interested in expanding their investment in Vietnam thanks to its strengths in supporting industries, mechanical engineering, garment and textiles, and footwear and to enjoy incentives from signed free trade agreements.
In 2021, Vietnam-India two-way trade turnover surpassed 13 billion USD. This year, the two governments set a goal of raising the figure to 15 billion USD. As of December 2021, India had 313 valid projects with a total registered capital of 910 million USD, ranking 25th out of 140 countries and territories pouring capital into Vietnam.
Vietnam's rice exports to surpass annual target
Vietnam's rice export is likely to surpass the target set for this year, said Chairman of the Vietnam Food Association Nguyen Ngoc Nam.
Nam said Vietnam earned nearly 2.4 billion USD from exporting 4.97 million tonnes of rice in the first eight months of this year, up 20.7% in volume and nearly 9.9% in value from the same period last year.
Vietnam plans to ship 6.3-6.5 million tonnes of rice this year, or 100,000–200,000 tonnes more than 2021.
Asia is the biggest buyer of Vietnamese rice, accounting for more than 50%, followed by Africa and America.
The Philippines alone bought over 1 billion USD worth of Vietnamese rice, or nearly half of Vietnam's total export, mostly jasmine and hi-quality rice, up more than 47% year on year.
In the past eight months, China bought over 520,000 tonnes of rice from Vietnam, or about 10% of Vietnam's rice exports, down 29% annually. At present, the neighbouring country has huge demand for glutinous rice but supplies in Vietnam are insufficient.
Ghana and the Ivory Coast remained stable markets for Vietnam, with more than 18% of the total rice export.
Vietnamese rice prices tend to increase
The prices of 5% broken rice in Thailand, India and Vietnam all increased during the week from September 12-16, according to the Centre for Agriculture and Rural Development, under the Vietnam Institute for Policy and Strategy for Agriculture and Rural Development.
India officially banned the export of broken rice and imposed a 20% export tax on other types of rice, which immediately impacted the world rice market.
The price of Thailand's 5% broken rice reached 430 USD per tonne, up 12 USD per tonne from the previous week. It is forecast that Thai rice prices will continue to increase soon due to the influence of India's policy.
Meanwhile, India's 5% broken rice price averaged 389 USD per tonne, up 6 USD per tonne from the previous week. Prices have increased due to the impact of the new export restriction policy of the Indian Government.
Vietnam's 5% broken rice price was estimated at 405 USD per tonne, up 14 USD per tonne from the last week, mainly due to the influence of India.
The Vietnam Institute for Policy and Strategy for Agriculture and Rural Development said that India mainly exports dry rice (low-grade), while Vietnam exports large quantities of sticky rice and fragrant rice.
Ha Nam calls for RoK investment
The northern province of Ha Nam has called for investment from the Republic of Korea (RoK) during an investment promotion conference in Seoul on September 22, which drew about 100 RoK firms.
Ha Nam is striving to become a centrally-run city in 2035 and one of the major high technology hubs in the Red River Delta region and the country.
So far, Ha Nam has attracted more than 350 foreign invested projects worth over 5 billion USD, including 148 funded by RoK investors with combined capital of over 1.7 billion USD.
The RoK currently leads 13 countries and territories investing in Ha Nam in both project number and value. Outstanding Korean firms operating in the province include Seoul Semiconductor Co., Ltd, Anam Electronic Co.,Ltd, Kortek Co., Ltd, and Dream Plastic.
Mercedes-Benz to assemble famous sport sedan in Vietnam
AMG C43, a famous sport sedan model of Mercedes-Benz, will be assembled in Vietnam in the time ahead, according to Mercedes-Benz Vietnam Director-General Bradley Kelly.
Mercedes-Benz Vietnam has seen an acceleration in the upgrade and development of domestic car production and assembly lines in recent years. That's why in 2021 and 2022, it has invested 33 million USD in developing six state-of-the-art technologies, some of which have made debut in the Vietnamese market, Kelly told the Mercedes-Benz Driving Festival 2022 that kicked off at the F1 circuit in Hanoi on September 21.
In particular, 2023 will mark an important milestone for Mercedes-AMG in Vietnam when its factory is capable of meeting strict technical standards to assemble Mercedes-AMG C43.
Vietnam ranks 63rd for digital environments and support system for entrepreneurs
Vietnam comes in at 63rd out of 113 countries in the global rankings for a digital environment and support system for entrepreneurs, according to details given by the Global Index of Digital Entrepreneurship Systems.
A total of 80% of developing Asian economies can be found near the bottom of the global ranking of digital environments and support systems for entrepreneurs.
Singapore boasts the world's best digital environment and support system for entrepreneurs, with the United States in second, while Sweden takes third place among 113 economies on the list.
However, 17 of the 21 developing Asian economies included in the list are ranked toward the bottom, thereby underscoring the need for many of them to nurture digital entrepreneurship.
Digitalisation offers a significant growth opportunities for businesses in Asia and the Pacific. It's a driver of innovation, which tends to be key for economies striving to achieve high-income status, whilst it can also contribute to making economies more resilient, as seen when digital technology helped many firms to survive the COVID-19 pandemic, and it can promote inclusive growth by lowering the cost of starting a business.
Vietnamese fertiliser imports surge over eight-month period
Vietnam spent over US$1.02 billion on importing 2.19 million tonnes of fertiliser during the initial eight months of the year, a decline of roughly 30.9% in volume but up 12.2% in value from 2021.
According to the General Department of Vietnam Customs, August alone witnessed the country import 246,015 tonnes of fertiliser, worth US$112.53 million.
The average price stood at US$457.4 per tonne, with the figures increasing by 45.8%, 68.3%, and 15.4% in volume, turnover, and price compared with July.
During the January to August period, the country mainly purchased fertilisers from China, with 1.06 million tonnes worth US$434.27 million, duly accounting for 48.2% and 42.4% of the country's total import volume and turnover, respectively.
In comparison to the same period from last year, the volume endured a decline of 26.9%, although the turnover was up 9%.
Trade surplus hits US$ 5.49 billion in January-August
Viet Nam's total trade value was estimated at US$499.71 billion in the January-August period, the Viet Nam Customs reported.
The above figure includes US$ 252.6 billion of export turnover, up 18.2 percent from the same period last year.
In the second half of August (August 16-31), trade volume totalled US$35.42 billion, up US$ 5.05 billion in comparison with the first half of the  month. 
Viet Nam's trade revenue hit US$499.71 billion in the first eight months of 2022, representing a year-on-year increase of 15.9 percent, equivalent to US$ 68.69 billion.  
The FDI sector gained US$ 346.32 billion in trade turnover, up 16.2 percent (US$48.24 billion) in comparison with the same period last year. 
Meanwhile, the domestic sector reported US$153.38 billion in trade turnover, posting a year-on-year growth of 15.4 percent (or US$20.45 billion). 
The Ministry of Industry and Trade said it would support enterprises to seek alternative raw materials sources for production in the remaining months when consumption is often high due to big holidays; and optimize FTAs to spur export.
Vietnam importers advised to re-negotiate with India over rice purchases
Vietnam's Trade Office in India has urged Vietnamese rice importers to contact their Indian sellers to check the status of delivery and re-negotiate with their partners over rice purchases, as India has imposed restrictions on rice exports.
The Trade Office said on September 8 that India had banned exports of broken rice and imposed a 20% duty on the export of some types of rice. The ban took effect on September 9.
However, some shipments will still be exported until September 15 if they meet one of the following conditions: rice had been loaded on ships before the ban, an invoice had been issued and a rice-carrying ship has arrived in India, or rice had been referenced to the customs for checks and export registration.
In 2021, Vietnam imported 433,000 tons of rice from India.
India's restrictions on rice exports have sent the Asian rice price up 5%. The rice price is expected to continue to rise, the local media reported.
Deputy Minister promises to correct mechanism in cross-border services
In his acceptance speech at the beginning of the week, Deputy Minister of Information and Communications Nguyen Thanh Lam pledged to contribute to the correction of existing mechanisms, policies, and laws to remove difficulties, create more resources, and create more breakthroughs for management and fairness between value-added services on cross-border internet platforms. 
First of all, this is an important task of the Ministry of Information and Communications as well as current authorities. Because cross-border services are considered the foundation for the development of the digital economy and digital society in which Vietnam is oriented towards.
The Internet television service (OTT TV) will serve as an example. According to data from the Ministry of Information and Communications, Vietnam has about 16.8 million television subscribers. The country collected a revenue of over VND9,000 billion (US$379,424,713) in 2021. Currently, 50 businesses have licenses to provide radio services and pay TV services. The number of domestic television channels is 196 and 70 foreign television channels are licensed for editing.
By the end of the second quarter of 2022, the paid TV market had revenue growth of approximately 9.5 percent over the same period in 2021. The management agency also said that revenue from cross-border OTT TV services world growth is approximately 300 percent over the same period in 2021.
Meanwhile, the pay TV services via the over-the-top platform (OTT TV) entering Vietnam have not yet come under strict management and the number of subscribers is continuously increasing.
According to the data of the Ministry of Information and Communications, in 2021, about 1 million subscribers were paying TV subscribers via the Internet of cross-border platforms such as Netflix, Apple TV, and WeTV with estimated revenue of nearly VND1,000 billion. Amongst them, Netflix has seen the fastest growth rate.
In May 2022, the Vietnam Pay Television Association (VNPayTV) continued to recommend tightened management for cross-border OTT services. Accordingly, cross-border services need to carry out registration procedures for operating licenses and censorship according to regulations. Moreover, their content must be pre-censored before being broadcast or put on the Internet to ensure synchronous state management of television and movie content like domestic OTT service providers.
Cross-border services also need to declare revenue generated in Vietnam. Furthermore, authorities should apply technical measures and tough sanctions which can control these services' compliance with content moderation regulations. At the same time, cross-border OTT services must be under special control.
According to the Ministry of Information and Communications, it is expected that from 2023, the new regulations will allow handling the current inadequacies, forcing foreign OTT TV service providers to comply with the same regulations as domestic enterprises. New regulations will promote the growth of the pay TV service market and create a healthy competitive environment as well as digital age cross-border services in general.
Commercial vehicles must share data to fight against smuggling
The Public Security Ministry has announced that Decree No.47, amending and supplementing a number of articles in Decree No.10 on January 17, 2020 by the Government about business conditions of commercial automobiles, comes into effect on September 1.
Accordingly, Decree No.47 adds regulations on information obtained from vehicle tracking devices installed on commercial automobiles. This information is used in the management of transport activities and daily operations of transportation businesses by the State.
These important information pieces are connected and shared among the Traffic Police General Department (under the Public Security Ministry), the General Department of Taxation and the General Department of Vietnam Customs (under the Finance Ministry) in order to perform the State management of traffic order and safety; public security; tax; and smuggling prevention.
Retail investors to return to stock market soon: analysts
     
Retail investors have been pulling money out of the stock market so far this year, but will return soon, according to analysts.
Do Hong Van, head of the data analyst team, financial information division, Fiin Group, an integrated service provider of financial data, business information, industry research, credit rating reports and other data-driven analytics services, said, "Compared with other asset classes such as gold and real estate, stocks remain an attractive option.
According to data from securities companies, around VND70 trillion (US$2.96 billion) was in investors' accounts at the end of the second quarter.
Van said investments by retail investors increased sharply last year and this cash flow supported the market.
But since December 2021 they had tended to be cautious and reduced their investments, she said.
Among the main reasons for the recent poor sentiment among retail investors are that they are not seeing any "promising story" in the near future and the Government's regulatory crackdown on certain companies to improve the market's transparency has resulted in sharp price volatility, according to Van.
But they are expected to return to the market this quarter and next.
According to attendees at the conference, sectors such as industrial real estate, electricity, animal husbandry, pharmaceuticals, dairy, and banking have positive growth prospects this year.
The power sector is expected to grow by 5.1 per cent in 2022 as consumption by the manufacturing sector increases after the COVID-19 pandemic.
Besides, the La Nina weather phenomenon is expected to last until early 2023, helping increase water storage in hydropower reservoirs, and the sector's average full market price (FMP) in July and August was nearly 50 per cent higher than a year earlier.
Speaking about the industrial real estate sector, Nguyen Binh Thanh Giao, deputy head of the analysis department at ACB Securities, said though the stock prices of industrial real estate enterprises had experienced remarkable growth vis-a-vis the VN-Index in the three years since the CPTPP was signed, there would be still much room for them to rise thanks to the high profit margin and return on investment.
The sector was expected to grow by 49.7 per cent this year, she said.
Industrial real estate businesses often have higher profit margins than those in the housing segment, which is facing many challenges.
They pay cash dividends regularly based on their high profit margins and ROE and bright development prospects, but their stocks' liquidity is often low because their managements are usually tight-lipped and so do not attract investors' attention.
Speaking about the banking sector, Cao Viet Hung, head of the financial analysis division at ACBS, said the sector accounted for only 31 per cent of the market capitalisation but 44 per cent of the total profits in the VN Index.
It was expected to grow strongly this year based on supporting factors such as improved net interest margin thanks to an increase in lending interest rates amid tight credit and well-controlled cost of capital, he said.
Banks also had lower provision costs thanks to improved asset quality and larger capital buffers, and they were back to 1.4-1.5 per cent of outstanding loans, the same level as before COVID-19.
Source: VNA/SGT/VNS/VOV/Dtinews/SGGP/VGP/Hanoitimes
Source link