Travel News
GBTA Survey: Travelers Willing, Suppliers Optimistic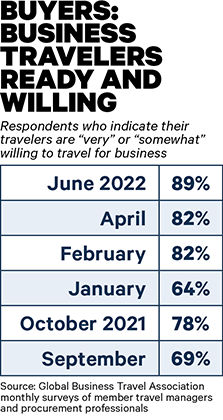 According to a new Global Business Travel Association survey released late last week, many business travel processes are returning to normal as employees prepare to hit the road, and travel providers are optimistic that Covid-19 is a declining factor in travel demand.
The partnership of 222 members of travel managers and procurement professionals surveyed by GBTA on June 7-17 indicated that their travelers were "willing" or "very willing" to travel for business, up 89 percent from 82 percent in April. This is a high-water mark for those figures in this survey, which have been regularly managed during the GBTA epidemic.
Similarly, surveyed suppliers generally express a sunny outlook about the future of business travel. About 88 percent of representatives of the 225-member airline, hotel chain, hotel property, travel management company or ground transportation company indicated they were "very optimistic" or "optimistic" about the "recovery path of the business travel industry", up from 86 percent in April. . About 84 percent indicated that their bookings in the previous week had increased from the previous week, and 5 percent said they had declined.
Still, the Covid-19 remains a factor in business travel decision-making as it spreads, although so far most of the restrictions have been lifted. About 65 percent of respondents to the entire survey base-buyers and suppliers together-indicated that their companies have a process where passengers who are uncomfortable traveling due to Covid-19 can request to leave the trip.
Among that group of respondents, 63 percent indicated that such unwilling workers could opt out of any trip they did not feel comfortable with, while 31 percent indicated such requests were considered on a case-by-case basis. A further 4 per cent have set specific criteria under which it is acceptable for employees to come out of travel.
Source link